ABOUT Zak H. Zakovi
revised January 2012 ~ The Beginning: Education & Evolution ~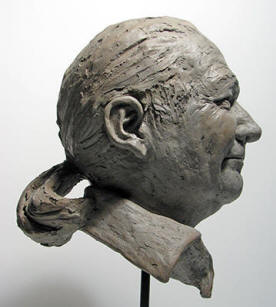 Zak Zakovi is a Montana artist and master builder who makes his home in Bozeman. After receiving his MFA from U of A in 1969; he worked in the construction industry moving up to -- Construction Manager - Project Manager - Federal On Site Building Inspector.

His work can be found throughout Montana and the Gallatin Valley. One of his most passionate endeavors is the design and engineering of stone mobiles from the materials of the earth that work effortlessly in the wind. Visit this online gallery to view stone sculpture, drawing, and landscape paintings.

Zak is also a master builder, experienced in home construction, and a master of stone craft. This site has a portfolio of homes that he has designed or built.
Zak Zakovi Bust by Marlys Boddy